2015 Finalists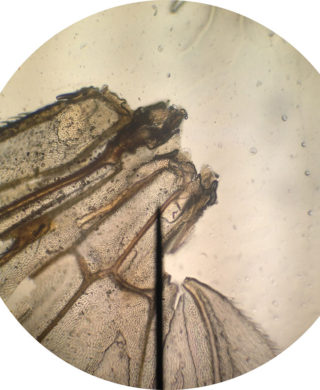 Daniel Juckes – Winner
MCCA
Title: The Edge of a Wing
Abstract: Taken with an iPhone down the lens of a microscope, this image shows part of the wing of an unknown insect found in an old book: A Wonder Book and Tanglewood Tales, by Nathaniel Hawthorne (George G. Harrap, London. 1925). My research looks closely at inanimate objects, and asks what things can tell us about the past. This image encapsulates the idea that an object can represent a lost moment; when the insect on the end of this wing was caught between pages is impossible to guess at, but its very presence encourages one to try.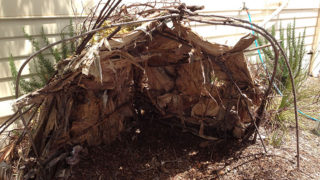 Warrick Fort – Second Place
SOBE
Title: Brilliantly Simplified
Abstract: Being an urban planner studying Aboriginal entrepreneurship, I find the Mia (pictured) thought-provoking. As the only form of visible built environment in the Perth area until British colonisation, it reveals invention and innovation from traditional Aboriginal society, proving forms of entrepreneurship have existed for thousands of years.
"The dynamics of the Mia; it looks very simple, but they always faced a certain direction. The wind would come over and blow the smoke away, but because of the shape of them, it would actually cause the air pressure to push the heat back into the hut…so aerodynamically they're brilliant". (Jason, interviewee).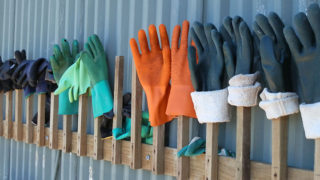 Jenny Shaw – People's Choice Award
CUSP
Title: Gloves and Fishers
Abstract: Salt-hardened, rope-worn hands of fishers. Gloves tell stories of long, tough days at sea: environment is their life. Survival at the whim of wind, sea and the vicissitudes of seasons and time. Has the environment changed? Knowledge of climate change is lived not studied, an unspoken understanding of how things have been and how they are now. See the gloves? A metaphor for fishing communities. Hands up if you want to actively know more about changing climate? Not so sure? I'll keep my gloves folded thanks.  Or "not me mate"? I'll stay out the back and leave you to it.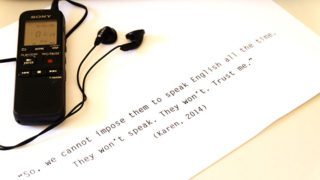 Abid
Education
Title: Oral Communication Strategies Instruction: Voices from EFL Lecturers in Indonesia
Abstract: This photo describes the methodology of my research, entitled "Oral Communication Strategies instruction: Voices from Indonesian university English teachers". Driven by a case study methodology, data from all English lecturers who were teaching oral communication classes in an English teacher-training program at a university in Indonesia were collected using a semi-structured interview method. These teachers were asked a series of questions to uncover their perspectives on the teaching of oral communication strategies, such as paraphrasing, asking for help and using gestures. To analyse the data, I used a thematic analysis approach. To ensure the trustworthiness of my research, I triangulated the data by interviewing a number of students and examining the syllabuses that the lecturers were using.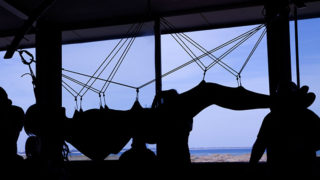 Jacqueline Ball
SODA
Title: Air Pockets
Abstract: This image was taken at Safety Bay Yacht club. It's of a woman who is suspending with metal hooks through her skin, whilst surrounded by the crew who arranged the event and looked after her, her friends, family and a few strangers. A couple of years ago I also suspended, with two hooks in my back. When I watched this girl hanging, seeing her skin separating from her muscle, I felt some of her intensity in my own body. In my research I'm interested in this transferal of affect, shared vulnerability, intensity and desire. I'm also interested in the way photography addresses the specific, but also can be an agent of erasure, much like suspension itself.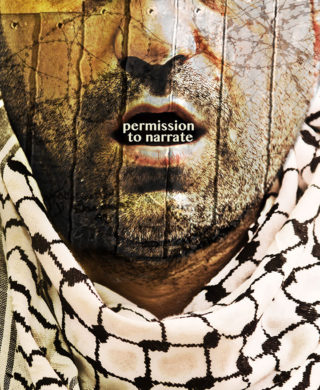 Rusaila Bazlamit
SODA
Title: Permission to Narrate
Abstract: The core drive behind my research project is a phrase coined by Palestinian intellectual Edward Said "Permission to Narrate". For Palestinians like myself the ability to narrate our own struggle, history and aspiration for freedom and justice is the core of our struggle in a world saturated by biased media and one-sided narrative. I will be using digital media to create an interactive installation that will embody the spatial qualities of occupation.  Through this installation people will experience what it means for a Palestinian to live under occupation and apartheid.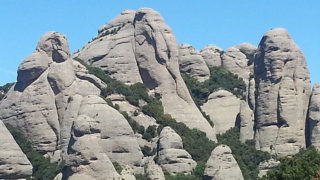 Katrin den Elzen
MCCA
Title: My PhD Journey: Navigating the Art of the Self
Abstract: I took this photo in May 2015 in Montserrat, Spain, on an outing with colleagues from a conference entitled "The art of the self". The image encapsulates the theme of my doctorate, which examines the rebuilding of the self in memoir after bereavement. The many faces of these rock formations convey the multiple, at times ghostly selves that arise out of grief and the surreal experience of becoming a young widow. Significantly, like the grief memoir, they also mirror the far-reaching range of human experience, from despair to hope, and the slow growth of life onto what seems barren rock.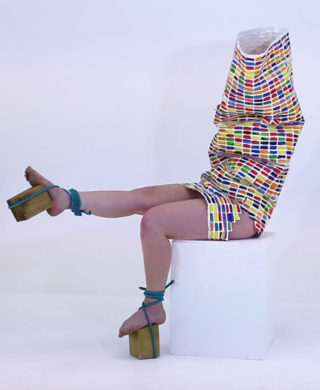 Lauren McCartney
SODA
Title: Parody Heals (still from video), 2015
Abstract: My research explores the female body as a commodity; it is an oppressed body that is carefully constructed as a tool of desire for men. My practice challenges the patriarchal implications placed on the female body as the objectified instrument for action painting.
Parody Heals uses exaggerated and absurd devices to critique how women's bodies are positioned within art history. The performance maintains that through failing with my material and body, I succeed in creating the work. Perhaps this is a 'feminine' means of thinking- that through what could be seen as physical weakness or exertion is in fact where the succession of my work is created.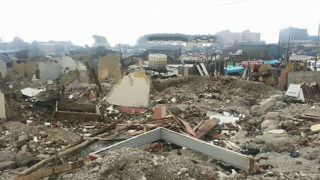 Zafu Assefa Teferi
CUSP
Title: Bulldozing Addis Ababa's Poor
Abstract: Chasing out slum dwellers – This photo is the outcome of my research project. It assesses slum upgrading in Addis Ababa, Ethiopia. Current attempts to improve the housing condition of the city have often simply focused on engineering solutions such as upgrading the structure of houses or gentrification – resulting in displacement of the population rather than actually remediating the living conditions in the slums for its inhabitants.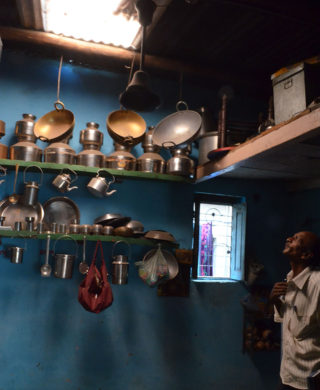 Neeti Trivedi
SOBE
Title: Skylight: A Ray of Hope for the Poor
Abstract: Housing is a vital productive resource for the urban poor. Though the urban poor reside in uninhabitable and unliveable places, they play an important role in contributing to the nation's economy. This research aims to report on the built environment interventions in the slum settlements of India, to examine the effectiveness of on-site physical upgrade of areas inhabited by the urban poor. The objective is to improve the home-based working conditions of the urban poor. The key aspect is to examine approaches and solutions adopted by the professionals and government authorities that can provide urban poor with a sense of ownership and comfort in their built environment. One such approach and solution is 'Ujasiyu' – skylight, as shown in the photograph.